Seaward Development has submitted plans for a building permit for the lot at 3515 Gulf of Mexico Drive.
Sarasota Custom Home Builder clears lot for new home.
Trees and land have been cleared at 3515 Gulf of Mexico Drive to make way for a new home on Longboat Key's Gulf front.
The property is being developed by Seaward Development for David Hargreaves and his wife, Linda. It is situated just south of the town's trailer park.
"The house will surely be one of the finest homes on the island," Seaward Development CEO Patrick DiPinto wrote in an email.
The email was sent to Planning, Zoning and Building Director Allen Parsons and distributed to town commissioners.
Hargreaves is the head of Financial Strategies and Controls at Seaward Development.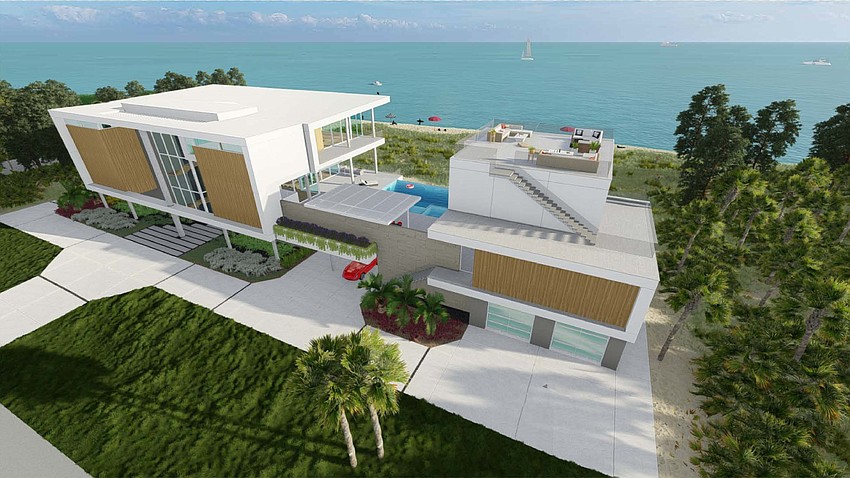 Hargreaves has been a resident of Lido Shores for over 10 years and plans to be a full-time Longboat Key resident once his new home is finished, according to DiPinto.
The development group purchased the property on the barrier island in January 2022, and it was already zoned as R3, low-medium density, mixed residential district. The zoning makes building a home on the property allowable without the development needing to visit the town's Planning and Zoning Board first as long as it meets town requirements.
A building permit was submitted to the Planning, Zoning and Building Department the week of March 13. It is still under review by the department.
The clearing of the property, including the tree removals, were allowed because of a separately, previously approved tree permit. The trees on the property were a mix of invasive species, so replacement will not be required.
Renderings were included with permit application information and are subject to change based on town required changes.
Original Article By Lauren Tronstad | 5:00 a.m. March 28, 2023
See more information on the home here: Picture Frame II
https://seawarddevelopment.com/wp-content/uploads/2023/08/Rear-Elevation-scaled.jpg
1600
2560
Steven Moore
https://seawarddevelopment.com/wp-content/uploads/2023/08/Seaward_Logos_Development_Icon_Colour-300x169.png
Steven Moore
2023-08-06 19:24:05
2023-08-07 14:42:31
Development firm clears property for new home on GMD